This is a list of useful things to know for new people arrived in Zurich or in Switzerland.
About me: I am from Ticino, I live in Zurich since 2010, during university I was a VP in the Lugano committee of the student-run world non-profit organization AIESEC. We had trainees coming to work in Lugano and we helped them to get up to speed and to understand Lugano and Switzerland as soon as possible. So in this post I'll try to help you figure things out as well.

Health insurance
Compare health insurance at comparis
: insert your residence zip code, birthday and follow the guided app to see your various options. Include all options: family doctor, HMO, telmed. If you wonder what that means, in short:
family doctor: each time you are sick you have to go to this person (if you don't, you'll get a penalty, worst case you'll have to pay your visit yourself), good luck if the doctor has many patients or if he is in vacation. Usually old people or people living in a village chose this option as he may know you during time and advise better.
HMO: it's a center with many doctors and specialists, I'm not sure but you may need to choose the center and you'll be bound to it.
telmed: when you're sick, you call a hotline, the person answering the call will assist you and basically give you "permission" to visit a doctor (you may have already researched a specialist online, or know one from your past visits) or even suggest you one or a specialist for your case. I suggest you this option, if it's the cheapest, even better. Else if you can save up a bit with an HMO option or family doctor you may choose that one.
Franchise: in short this is the amount of money you'll have to pay yourself besides paying the insurance. So e.g.
if you select a low franchise e.g. 300 CHF
, you go to the hospital because you had an accident and the bill will be 500 CHF: you will have to pay the first 300 CHF, the rest is paid by the insurance, if during the year you still need to go to the doctor, as you already paid the initial 300 CHF, the rest is paid by the insurance (in some cases you still need to participate in the costs, but the principle is as I explained).
If you select a high franchise, e.g. 2'500 CHF
, because you are healthy and think that you won't have to go to the doctor or to the hospital many times, and you have to go do the doctor 4 times a year and each time the bill is 200 CHF, you have to pay those bills for a total of 800 CHF. But consider this, if you select a low franchise, you pay a higher monthly fee, up to 100 CHF more per month, compared to the higher franchise. So in the end you save up. Check the offers and change the franchise to see how it works, do the math and you'll see.
Keep in mind: instead of paying monthly, you can save up a bit (like 2-3% discount) if you pay the entire sum for the entire year, or 2 times a year. You'll also save up time to enter the payment details as you'll do the operation less times.

Household insurance etc.
Household insurance will cover you, in short, for these things:
the house, e.g. if accidents happen, such fire, or you get robbed
robberies, e.g. you get something stolen not in your house, but around
your baggage is stolen, you get robbed in vacation (usually good household insurance offer this, so if the one you found doesn't, check a better one that includes this) you get a refund
liability insurance: if you provoke some damage it'll cover that
Bank account
UBS seems attractive as they speak English and will provide you an account with credit cards, maestro card
all for free, but only during the first year
. UBS will start charging you after 1 year, so maybe you should check other non-free options that will make you save in the long term. E.g. Migros Bank is FREE if you can put a capital of at least 7'500 CHF. If you won't have that much liquidity, the account will be attractive anyway: 3 CHF/month (36 CHF/year) including maestro card.
Payments & LSV
In Switzerland we have a so called
LSV
for direct debit payments. What this means is that for some entities, such e.g. rent, credit cards, insurance or other regular payments you can allow the entity to automatically claim the money for the invoice from your bank account. This is quite useful if you are that kind of person that often forget to pay invoices punctually, and even get administrative fines for that. Don't be a victim of these stupid fines, configure your payments to be smart and make your life easier, use LSV for important stuff and electronic invoices for the rest. Ask your "entity" if they have LSV. If they do they will send you a form to fill and sign, then you should not receive any invoice from them anymore. You will be able to see the payments in your e-banking, of course.
Credit cards
Check this out, the article covers also information about the Cumulus MasterCard and Coop SuperCard VISA/MasterCard:
Withdraw money abroad without any fees
If it's your first months here and you are still in probation period or simply "not stable" enough, when you apply for a credit card, you application may be denied. In this case, avoid the hassle and directly apply for a revolutionary credit card online at Revolut: the credit card if free, can be used in any country, can be used to convert currencies at the best rates, do online shopping and even withdraw a little amount of money for free. The withdrawing limit is low (200€ / month), so I suggest to use it to pay stuff at the shops, restaurants etc. and withdraw only occasionally.

Driving license
If you plan staying in Switzerland for more than 1 year, and plan driving here (even occasionally) you need to convert your foreign driving license. An international driving license won't be enough. Fill e.g.
this kind of form (in Zurich)
. You'll also need a photo and let an optician fill the eye test (Fielmann will do it fast and cheap for aroud 20 CHF).
Groceries
We have many supermarkets in Switzerland. The most famous ones are
Migros
and
Coop
. Don't confuse "Migrolino" or "Coop Pronto", they belong to the same group, but they have different opening times (e.g. the ones located at the train station are open also during holidays and until late in the evening) and thus the products are priced differently (more expensive). A very famous one is Denner (they often to weekend discounts on beers, wines etc. it's worth to install their app and subscribe to the newsletter to be informed on those promotions), then there are also Aldi, Lidl, Spar etc.
Trash
In every city or village, the system can be a bit different. E.g. where my brother lives he puts trash on a scale and he has to pay according to the weight. In Zurich we have the so called "Zürisäcke" small ones 17 liters, or standard ones 35 liters. You can buy them at Coop, Migros, Denner etc. usually you ask for them at the check out. At Migros they sell them where they also sell the flowers. At Coop they sell them also at the Kiosk. It depends. Ask and they will tell you. Btw you may think these Zürisäcke have a standard price: it's not the case, I think e.g. at Aldi they are slightly cheaper, or if you order them online (e.g. Coop Online) they may be even cheaper. I don't care but if you want to save up a bit, do your own research and maybe leave a comment here for good karma ;)
Recycling
Please don't throw away together with the trash, but collect PET, other plastic containers with the "recycling sign" on them, glass bottles or broken glass, aluminium and other metals, batteries, paper and cardboard. The advantage is not only for the environment, but also for you, if you put less trash in the Zürisäcke in the end you will save up.
PET and plastics: you can usually bring those back to any supermarket and recycle them there.
Batteries can be brought back to supermarkets too.
Aluminium, metals, glass: you can find in your neighborhood a center where to throw them away. Please note, green glass must be thrown in the green glass container, brown glass in the brown glass container, transparent one in the white glass container.
Paper and cardboard: check the Entsorgungs-Kalendar, you enter your address and it will show what is collected on which day, this is useful to print and to put e.g. on your fridge. Paper is collected separately from cardboard, so collect them separately.
Electronics: you can bring old or broken electronics to electronics shops like Fust, Interdiscount, Mediamarkt etc. and by law they have to collect them. They also collect the Coffee capsules, if you have a capsules machine.
Here you find the locations where you can bring aluminium and glass: recycling-map.ch
More information at Zürich Entsorgung & Recycling

Loyalty cards
If you don't want your wallet to explode with those cards, just scan their code with an app, e.g.
Stocard
(
Stocard for Android
,
Stocard for iOS
). This is useful if you forget your card the time you'll need it, you'll have it in the app.
Subscribe immediately to collect "points", at Migros and Coop you will be able to use those point to buy groceries, just like cash.

Migros Cumulus install the Migros app to have the history of all your receipts, to activate vouchers before paying etc.
Coop Supercard install the Supercard app to activate promotions etc.
later, if you apply to get a cumulus mastercard or a coop supercard mastercard, you can associate it to your cumulus/supercard loyalty program and earn points using the credit card in any shop, not just at migros or coop, the credit card is free
Save paper
In Switzerland we are technologically advanced for many things, but still we are years behind for other obvious things. Things are changing slowly, so please be patient ;) the good thing is that there are some options to get rid of paper, in example:
The Coop Supercard website allows to configure your settings to stop printing paper receipts (once logged in, see menu "digitale services"), but to receive a PDF instead, this is awesome to save paper and at the same time have a backup of all your receipts and warranties in your mailbox.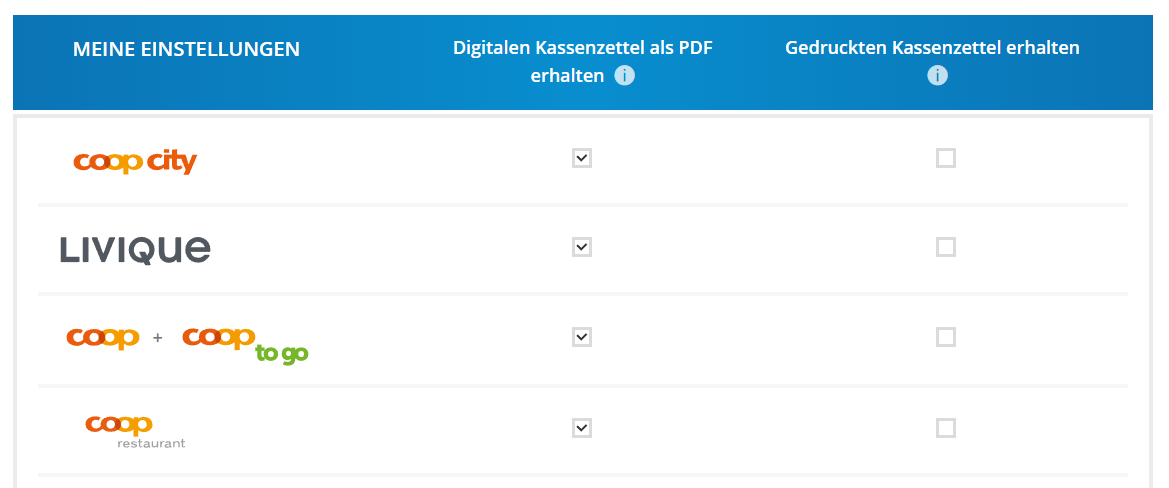 In your e-banking you will find a setting to activate electronic invoices and to search for merchants to subscribe to. Typical examples are electricity providers (e.g. EWZ), insurances, telecom providers etc. activate the electronic invoice so you will save time (you will just confirm to pay an invoice with one click instead of typing all banking details, invoice reference number etc. each time) and paper.
In your mailbox, probably you figured it our already, your neighbours (if you have green minded ones) have probably put a sticker "Keine Werbung". Do the same (you normally say hat when you fill the form when you sign the contract for your flat, but if you forgot or didn't think it through at the beginning, you can change mind later) so you won't get a lot of advertisements, flyers etc.. You can still check offers of your favorite shops via their app or subscribe to their newsletter. Be digital, save paper! You will still receive paper spam from people that manually put advertisements in your inbox, by law it seems that they are allowed to do that. It's kinda stupid from the consumer perspective, but you can fight this a bit: in some cases when I get angry I send those catalogs or unwanted flyers (sometimes I see many flyers on the ground, as litter, so I collect them all) back to the recipient, without stamp. You need just to write with a big pen "REFUSÉ" (from French, "refused") and they'll have to pay the postage fee + a little fine because it was without stamp and it created more administrative costs to the postal service. This is a good way to punish spammers. You can do that anonymously but also for catalogs etc. that were sent to you without your consent, or you unsubscribed and still they sent it to you one year later.

Internet
If you are tempted to use Cablecom, keep in mind (not many people know this) that you can do the
Plombierung
, which means physically deactivate the connection. Like this you can save up some of your ancillary costs, up to 30 CH/month. If you consider that for that price you can get a cheap internet connection with a fiber provider, it's worth it. I use
iWay
, if you want the best (and fastest, but it will cost you a bit more) you may consider
Fiber7
.
Sim card with internet data
Go with
Lyca Mobile
. It's the cheapest I've found if you need just internet. Check also the various
mobile contracts on comparis
.
Android Google Play: change country
Some apps can be purchased only in Switzerland, so if you want to be able to buy those apps you may need to change country of residence also in your Google Play profile. To do so, check the
[FAQ] How do I change my Google Play country?
 I was pointed out that the article is old, so instead of point 6: open Google Play again, Go to Menu > Account > Country and Profiles > Change your country.
You may not see this option if:

you have changed your country within the last year.
you aren't currently in a new country. This is based on your IP address.
you're part of a Google Play Family Library.
Also, it seems you can change country only once a year. So if you want just to "test" this, don't do it. Change your country only if you really need it.
Alternatively you can create a new google account just for this purpose (Play Store) and keep your original account as is, if you don't plan to stay in Switzerland for a long time, but want to access apps exclusively available only in the Swiss market.

Public transport tickets at reduced price
If you didn't know about the Halbtax, check more
infos about the SBB  half-fare travelcard
. Long story short, with this card, you can buy any ticket for half-fare, which doesn't mean it's always 50% the price, but almost, e.g. train tickets will be 50%, but bus tickets in Zurich and other cities will cost you the reduced price, like for children. If you make a few trips, you'll cover the costs already.
If you are not yet 25 years old and want to discover Switzerland for a bragain, have a look at seven25 membership, for 39 CHF/month you can travel in the entire Switzerland, but only after 19:00.

Train tickets at discounted price
Many people don't know that they can check for a connection at least one day in advance and find discounted tickets, so called super saver tickets. You see such opportunities with a % in the SBB app for smartphone. If you click a connection you see "tickets from". These opportunities are usually valid only from a big city to another big city. The catch is that you must take exactly that train. If you lose the train, the tuicket is no valid anymore and you must buy a regular one.
There are other opportunities, such as the 1-day travelpass or the saver day pass. Have a look at the SBB website to find more opportunities.

Free ride with Uber
If you don't have Uber (
Uber for Android
-
Uber for iOS
) yet, use this invite code to register and get a
free ride
for free:
paolob151ue
Rent a bike
There are places to rent a bike for
free
.
Check Bike Hire in Zurich
.
The LimeBike App works quite well in Zurich. Here my invitation link To get 3 USD in credits, use this invite code: RWHXRWA
You can even borrow a bike for free, check Züri rollt.

Rent a car
We have the usual car rental multinational companies, but we also have
Sharoo
. People like you and me share their car and you can book it online and go to pick it up, unlock it with your phone and use it! I did rent one time a big car to pick up some furniture and it was practical.
If you hold a SwissPass card, you can activate Mobility SwissPass. You will pay a higher tariff than if you have a full membership, but as backup solution or for occasional use (like in my case) this works perfectly.

Borrow stuff
Maybe you have some friends already, to help you out. But if you don't, join some local facebook groups, also consider to check out
Sharely
. It's a sharing community where people share stuff. You can rent anything: tools, electronics,
even drones
. It's not for free, but if you break the object you rent it's even covered by insurance and you will have to pay only the first 50 CHF of damages, the rest will be covered by the insurance. E.g. you rent an expensive drone and you crash it, you will lose only 50 CHF and the owner will get a full refund.
Online shopping
If you find something interesting, you can have a look on
TopPreise
to see if you find another online shop that sells it cheaper. I do it all the time and save up here and there a few francs. If you are a frequent shopper you will notice that the shops with the best prices are always the same.
You for sure know ebay. In Switzerland ebay is not used much, but there is a local ebay clone called ricardo.ch and this is used a lot. You can find good deals here too.
If you have a credit card, I recommend you to download the TWINT app and to connect it to your credit card and bank account. Like this you can save up costs when you order stuff online: often shops charge you additional costs if you choose the credit card as payment system. But if you choose Twint it's free and it's super convenient. You will scan a code displayed on the screen and confirm the payment. It's more secure and faster than using credit cards.

Foreign online shopping
If you order stuff from abroad, keep in mind
import custom taxes
.
I order a lot of stuff from BangGood and from AliExpress. My suggestion if you are tempted to buy a lot of stuff: split your orders so that they all are under 60 CHF in value (goods + shipping costs are considered value, so keep in mind the shipping, mostly it's free, but sometimes you need to pay, depending on the goods you buy),
If you live near the boarder with Germany, or have a friend living near the boarder, you may use an address in Germany to avoid expensive shipping costs and import taxes (especially if ordering from Germany or EU, this can be very convenient). Check in example Swiss Paket.

Receive packages
Swiss companies are often ok if you want to deliver packages at the company address, but some companies don't allow that. Make sure to ask before you order something online. You can also register at the Swiss Post and activate your 
My Post 24
account, do it now as you will receive a letter to confirm it. Then you will have an address similar to a P.O. box with a personal code and you will be able to receive packages in a location of your choice. The cool thing is that you will be able to go there any time, also during the night as it's a fully automated place, like this you will avoid the annoying queues during rush hour of (old school) people going to the post to do pick up packages etc. you can also print a label at home and send packages at a MyPost24 location.
Send a letter
Bureocracy... You need to send a few letters with your signature, you can't do many things online... but you can use
webstamp
, a service that allows you to buy a stamp online and print it including the recipient address. You can print on an envelope, on a label (a sheet contains usually many labels), or on a sheet to be put inside of an envelope having the space allocated for the address, on the right or left (you can buy those envelopes at Migros or Coop, the labels too). Your letter will look more professional and you won't need to go to the post just to buy the stamp.
Moving to a new flat
Find a new tenant using
flatfox.ch
(if you use homegate you have to pay high fees) I used flatox.ch and found lots of people (my ad on tutti didn't produce many results and in facebook gorups I got no interested people at all)
Swiss Post: Redirect your address to a new one

More
This article is in continuous progress, if you have ideas, requests or can share some hints to be published, please add a comment.